St. Mary Cemetery Memorials - Elyria, Ohio
Established in 1857, St Mary Cemetery in Elyria, Ohio holds a special place as a historical marker within the local community. The cemetery is the largest representative of the Cleveland Catholic Cemeteries network in the city. Kotecki Family Memorials leads the region in providing cemetery markers, monuments, and memorials to the Catholic faith community. St. Mary Cemetery Memorials feature numerous Kotecki stonework among its' historic markers and headstones.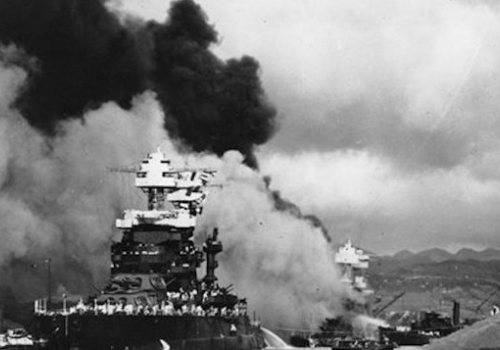 Pearl Harbor Veteran Rests At St. Mary Cemetery
In 2016, a 75-year war story concluded as Elyria Sailor Rudolph Piskuran came to rest among St. Mary Cemetery Memorials. The son of Hungarian immigrants William and Julia Piskuran, he was a 1940 graduate of Elyria High School before enlisting in the United States Navy.
"Rudy" was just 19-years-old when he died as a proud member of the USS Oklahoma. On December 7, 1941, Japanese airplanes torpedoed and capsized the battleship killing 415 sailors and 15 marines aboard.
The attack launched the United States into World War II.
"I'm just glad he's laid to rest.. and I know he's with his mom and dad, where he needs to be."
Piskuran Neice – Iiona Menner
In April 2015, a change in policy by the Department of Defense allowed for previously unidentified remains of Pearl Harbor victims to be exhumed and examined through DNA testing.
According to reports, Piskuran had originally been buried in a mass grave at the National Memorial Cemetery of the Pacific.
St. Mary Cemetery
Elyria, Ohio
Location: 7284 Lake Avenue
Elyria, Ohio

Established: 1857

Total Acres: 73

Burial Options: Ground Memorials, Upright Monuments, Cremation
Memorial Designs, Specifications And Standards
St. Mary Cemetery Memorials Elyria must adhere to material, size and elevation standards set by the cemetery association. Each Kotecki professional has the knowledge and expertise to create a custom-designed memorial  to approved specifications.
St. Mary Cemetery Memorial Pricing
Complete our ONLINE PRICING FORM to receive a reply from one of our memorial specialists. Our team will respond promptly to discuss your custom design, and review pricing and payment options.
Serving Cleveland's
Catholic Community
For Over 120 Years
ONLINE PRICING
Custom Catholic Memorials
RAPID RESPONSE
Kotecki Family Memorials can begin the process of creating a custom Catholic memorial online. By using the pricing form below, our team can quickly respond to your needs. As a convenience, we are available evenings and weekends.
St. Mary Memorials Elyria Links *
*  Not all featured links shown were designed and created by Kotecki Family Memorials. The reference information provided is for educational purposes.