Holy Cross Cemetery Memorials
The Kotecki Family are leading providers of grave markers, monuments, and other custom Holy Cross Cemetery memorials. Located in Brook Park, Ohio, this west side facility is among the most prominent of Cleveland Catholic Cemeteries. The grounds reflect much of the work of Kotecki stone carvers from the past half century.
Holy Cross Cemetery
Brook Park, Ohio
Location: 14609 Brookpark Road, Brook Park, Ohio
Established: 1950
Total Acres: 230
Burial Options: Ground Memorials, Upright Monuments, Creation, Mausoleums
Kotecki Memorial Options:
We offer many options to memorialize your loved ones including traditional memorials, upright monuments, cremation urns, and mausoleums.
Holy Cross Memorial Contacts:
Kotecki Family Memorials
Brook Park
15201 Brookpark Road
Brook Park, Ohio 44142
Showroom Hours:
MON-FRI: 9am-5pm
SAT: 9am-3pm
216-433-0762
Contact: Lynn Saber
leiswerth@koteckimemorials.com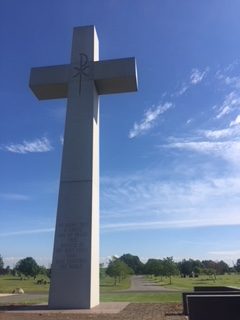 Granite Sculpture Frames Holy Cross Cemetery
Erected in 1980 by Kotecki Family Memorials, this 56-ton granite cross was placed at the center grounds of Holy Cross Cemetery in Brook Park, Ohio. Then diocesan director of cemeteries Father John Clines said the Kotecki-built structure may have been one of the largest of its kind globally. The cross stands prominently 39 feet high.
Memorial Designs, Specifications And Standards
Each Holy Cross Memorial must meet the specifications set by the local cemetery association. All Kotecki Family professionals are knowledgeable and have the expertise to custom-design an elegant and approved memorial.
Holy Cross Cemetery
Memorials Pricing
Click and complete the ONLINE PRICING FORM to receive a reply from one of our memorial specialists. Our team will respond promptly to discuss your custom design, and review pricing and payment options.
Holy Cross Memorial Links *
View the links below of notable cemetery memorials as featured on FindAGrave.com:
Arthur B. McBride
1888 – 1972
– Founded the Cleveland Browns in 1944.
Ralph J. Perk
1914 – 1999
– Cleveland's 51st Mayor – served from 1971 to 1977.
Laurence "Larry Madge" Majerus
1908 – 1993
– Professional Boxer – fought for welterweight title in 1931.
Patty Donahue
1956 – 1996
– Akron Singer – part of the band "The Waitresses" in 1977.


* Not all featured links shown were designed and created by Kotecki Family Memorials.
The reference information provided is for educational purposes.