Catholic Cemetery Monuments
KOTECKI FAMILY PROVIDES SERVICE TO ALL LOCAL CEMETERIES
Memorials Reflecting Our Faith
Supporting The Catholic Community For Over 125 Years
In a spirit of reverence, Kotecki Family Memorials has served Catholic families of Northeast Ohio since 1896. Our team of stone carvers has expertly crafted Catholic Cemetery Monuments for over a century.
Like all similar Ohio senior properties, the buildings were ordered closed to family and visitors during the height of the pandemic period. From March 15, 2020 to March 31, 2021, Mount Alverna discharged over 328 residents, of which 142 passed from a host of ailments including  cancer, heart disease, diabetes, and the Covid-19 virus.
"This beautiful monument took over a year of planning," said Executive Director Patrick Welsh. "It is dedicated to the 142 residents whom our Lord called home."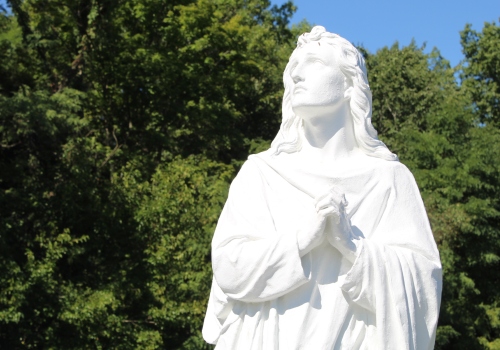 Authorized To Service All Cemeteries In Cuyahoga, Geauga, Lake, Lorain, Medina, Summit, And Portage Counties.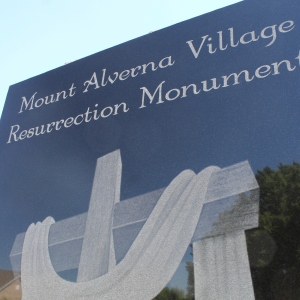 Mount Alverna Village - Parma, Ohio
St. Francis Xavier Cemetery
MEDINA, OHIO
St. Mary Cemetery
GRAFTON, OHIO
St. Joseph Cemetery
AVON, OHIO
Kotecki Family Memorialists are authorized to service all cemeteries throughout Ohio including Cuyahoga, Geauga, Lake, Lorain, Medina, Summit, and Portage counties.
Cleveland's Leader In Catholic Monument Designs
Mount Alverna Monument Dedication
Kotecki Designed Community Marker Is Dedicated With Special Ceremony
The staff and families at Mount Alverna held a special dedication ceremony on May 24, 2022.
"We pray this monument brings you some peace that the souls of all the names listed here are resting in God's eternal place," said Director Welsh. "Please know our heart broke with the passing of each of these residents.
To view dedication ceremony ON DEMAND, see the video link below:
Catholic Monuments
CENTRAL OFFICE:
Kotecki Family Memorials
3636 Pearl Road, Cleveland
Showroom Hours:
MON-FRI:  9am-5pm
SAT:  9am-3pm
216-749-2880
Contact: Edward Kotecki IV
ekotecki4@koteckimemorials.com
Specialists In Civic And Community Monuments And Memorials
Creating a unique community or civic memorial is a process requiring many aspects of planning, budgeting, design, and development. Kotecki Family Memorials has a long standing history of working on many such monuments. Contact our central office to begin a discussion. Creating a monument reflecting the story of a community is a project we are honored to be a part of.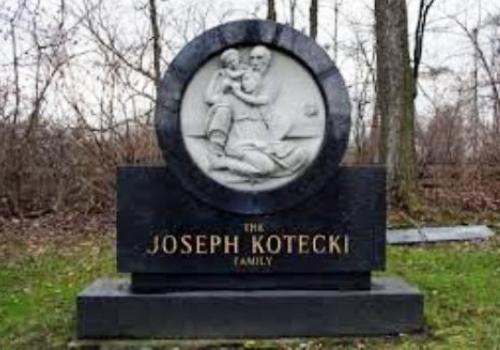 Kotecki Family Memorial
Calvary Cemetery – Cleveland