Olmsted Falls
Football Stadium Monument
CHARLES A HARDING MEMORIAL STADIUM
Custom Etched Memorial Installed
Team Kotecki Crafts Football Stadium Granite Marker
School officials took on an aggressive renovation project involving the Olmsted Falls Football Stadium. A new athletic turf and stadium track for it's Bulldog sports teams were planned.
The project included community partnership with a number of local supporters and organizations. The largest of those included Southwest General Health Center ($210,000), Vitamix Corporation ($200,000), and the Cleveland Browns / National Football League ($250,000).
Kotecki Family Memorials President Edward Kotecki IV worked directly with Bulldog and administrative officials in the development of a perpetual marker to commemorate the project and its sponsors.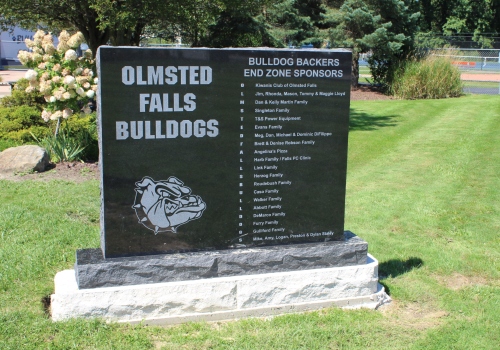 Olmsted Falls Football Stadium Etched Monument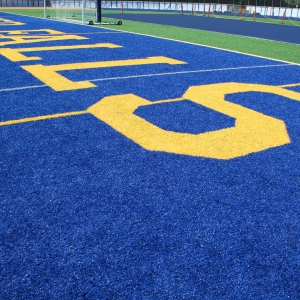 Vitamix Field - Olmsted Falls, Ohio
Kotecki Family Memorialists have been a trusted leader in major community and civic projects. Contact the city's most experienced monument team - we can help with planning and design.
Cleveland's Leader In Community Monument Designs
Browns Support Olmsted Falls Bulldogs
Kotecki Designed Community Marker Is Dedicated With Special Ceremony
The Cleveland Browns supported Olmsted Falls in helping to sponsor the implementation of the new synthetic turf field at Charles A Harding Memorial Stadium. It was the Browns 13th such project in the past six years. The Haslam and Johnson families and "Browns Give Back" have been dedicated to providing communities with new field surfaces for Ohio high schools.
To view the BROWNS PROJECT VIDEO, see the link below:
Charles A Harding Memorial Stadium
"Bulldog Stadium"
Bagley Road
Olmsted Falls, Ohio 44138
The stadium project began June 6, 2022 as the facility was closed to begin construction on the reported $800,000 renovation. Final installation of the new track and field surface was completed fall 2023.
Cemetery Monuments
CENTRAL OFFICE:
Kotecki Family Memorials
3636 Pearl Road, Cleveland
Showroom Hours:
MON-FRI:  9am-5pm
SAT:  9am-3pm
216-749-2880
Contact: Edward Kotecki IV
ekotecki4@koteckimemorials.com
Specialists In Civic And Community Monuments And Memorials
Creating a unique community or civic memorial is a process requiring many aspects of planning, budgeting, design, and development. Kotecki Family Memorials has a long standing history of working on many such monuments. Contact our central office to begin a discussion. Creating a monument reflecting the story of a community is a project we are honored to be a part of.