The Kotecki Family acknowledges it's responsibility to record and chronicle the lives of local community members. Perhaps nothing better reflects that commitment than their construction and design of veterans memorials and reverential war memorials.
These collaborative projects usually involve community leaders in partnership with the design team at Kotecki. From initial concept, digital-design process, budgeting, carving, and installation, Kotecki Family Memorials are leaders in helping to manage these profile projects.
Recent Veterans Memorials Projects
With a 125-year history, Kotecki Family Memorials has a long legacy as both a partner and provider of custom community veterans memorials. Our craftsmanship is well represented throughout the Greater Cleveland area. These high-profile projects have been well-documented in news and media reports. Read some of our recent project stories below.
Veterans Memorials Contact:
Kotecki Family Memorials
3636 Pearl Road, Cleveland
Showroom Hours:
MON-FRI:  9am-5pm
SAT:  9am-3pm
216-749-2880
Contact: Edward Kotecki IV
ekotecki4@koteckimemorials.com
Valley Forge High School - Parma, Ohio
Vietnam Veterans Memorial Honors 15 Alumni
"We always try to teach a little bit about our own community and our own school when studying the Vietnam War, so it's a little bit more relevant for the kids" – Social Studies Teacher Amy Byrne
What initially began as a classroom project became a school reality with the help of Kotecki Family Memorials. Students discovered what they felt was an unusually high number – 15 Valley Forge High School alumni killed during the Vietnam War. The school's history club contacted other alumni, family members to help raise funds for the project. Officials dedicated the memorial with a special ceremony on May 10, 2019.
Valley Forge
Veterans
Memorial
Parma, Ohio
Agent
Orange
In Memory Of Those
Who Continue To Suffer
Nordonia Hills Veterans Memorial Park - Macedonia, Ohio
Honoring World War 1 Veterans At
100-Year Anniversary Of Conflict
It "gives veterans a place that's for them" – Dave Pristash, American Legion Post 801 Commander.
First conceived in 2015, the Nordonia Hills Veterans Memorial Park is an aggressive project to honor fallen soldiers and the sacrifices made by members of the community. President Edward Kotecki worked with Pristash and a volunteer foundation to assist with the ongoing development of the park.
Currently the park features an arched entrance way with a gazebo, brick pavers, retaining walls, numerous artillery relics, and  commemorative stones carved and etched by Kotecki Family Memorials.
Avon Veterans Memorials - Avon, Ohio
World War 1, World War 2, Korean War, Vietnam War, Persian Gul War, Iraq War
"The city doesn't have a veterans memorial," said Mike Khoma, commander of the Avon/Avon Lake VFW Post 7035. "It was something that was lacking,"
A concept initially brought forward by Avon Mayor Bryan Jensen, Khoma worked with the team at Kotecki Family Memorials to create a truly unique display. The memorial features a carved stone for each of 6 modern era conflicts beginning with World War 1. It also contains the names of Avon community members who lost their lives serving their country.
READ: Published Story In The Morning Journal / morningjournal.com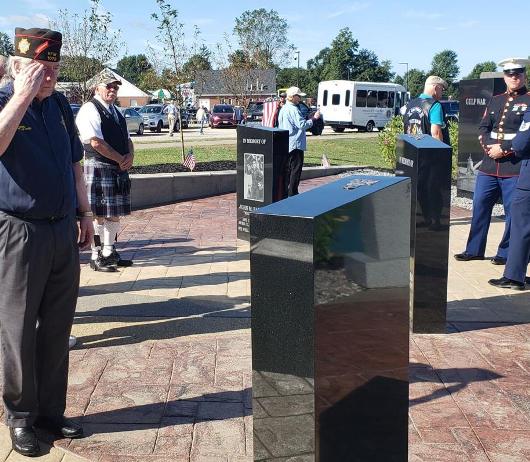 Kotecki Family Memorial Links: