Cleveland Memorial Products
THE CITY'S BEST DESIGNERS – CEMETERY MARKERS – PROFESSIONALLY CRAFTED
Cemetery Monuments, Headstone Restoration, Photo Imaging, more
A leading producer of memorial products, the Kotecki Family is locally managed, and provides direct support to Greater Cleveland families during their time of loss.
Largest Selection In Cleveland
Digital Design Services 
Color & Photographic Proofs
Custom Budget Options
Digital Previews / Design Approval
We are an approved monument provider at all regional area cemeteries.
Cemetery Monuments
CENTRAL OFFICE:
Kotecki Family Memorials
3636 Pearl Road, Cleveland
Showroom Hours:
MON-FRI:  9am-5pm
SAT:  9am-3pm
216-749-2880
Contact: Edward Kotecki IV
ekotecki4@koteckimemorials.com
Authorized Memorial Designer In All Local Cemeteries
Our team professionally updates family names, dates, and inscriptions on-site directly at cemetery gravesites. We match both font styles and sizes. Submit a service request below and we will respond.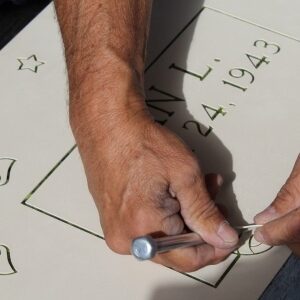 * Submit An Inscription Request For Scheduling And Associated Fees.
We Capture Each Family's Legacy In Our Memorial Products
Listening to each family and creating a monument reflecting the story of your loved one is a process we are honored to be a part of. Creating and installing that completed memorial is a responsibility we accept. Our team is knowledgeable and experienced in each cemetery's standards for memorial styles, granite colors, monument inscriptions, and gravesite preservation.