All Souls Cemetery Memorials
Located in Geauga County, All Souls Cemetery in Chardon, Ohio represents over 63,000 interments within the network of Cleveland Catholic Cemeteries. The 115 developed acres features 7 mausoleums within the sprawling hillsides and gardens. The Kotecki Family are leading providers of All Souls Cemetery memorials, markers, and monuments with over 120 years of professional and respectful service.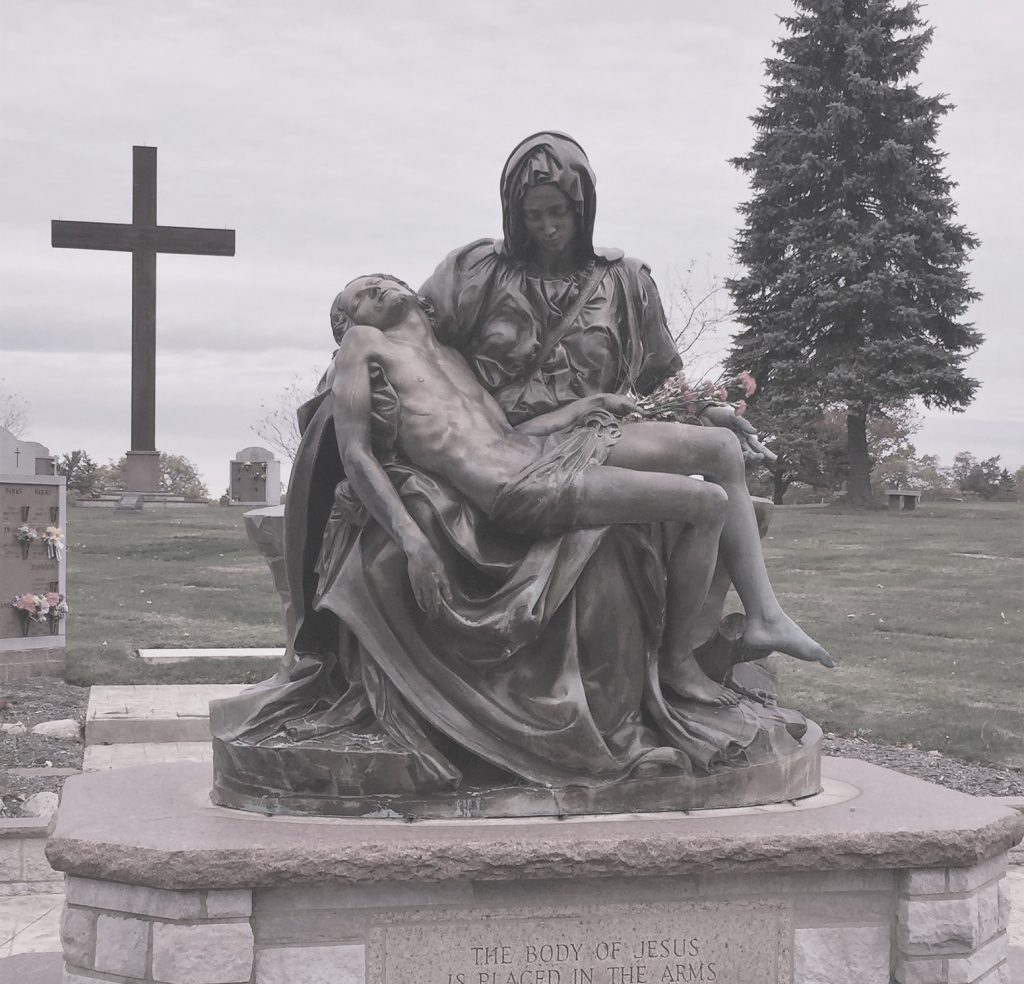 Bronze Pieta Cast At All Souls Cemetery in 1964
The Kotecki Family was commissioned in 1964 to construct a replica of Michelangelo's "Pieta" for All Souls Cemetery. At the time, President Edward Kotecki designed the project to be cast in bronze for enhanced detail. It was the first ever "inch-for-inch" replica created from the famous original. Portions of the monument were shipped direct from Italy to Chardon. The casting weighed 3,000 pounds and took one year to complete.  The original, crafted in 1498, depicts Mary holding Jesus and is housed at St. Peter's Basilica in Vatican City.
All Souls Cemetery
Chardon, Ohio
Location: 10366 Chardon Road,
Chardon, Ohio

Established: 1958

Total Acres: 238

Burial Options: Ground Memorials, Upright Monuments, Cremation, Mausoleum
Memorial Designs, Specifications And Standards
All Souls Cemetery Memorials must adhere to material, size and elevation standards set by the cemetery association. Each Kotecki professional has the knowledge and expertise to create a custom-designed memorial  to approved specifications.
All Souls Cemetery Memorial Pricing
Complete our ONLINE PRICING FORM to receive a reply from one of our memorial specialists. Our team will respond promptly to discuss your custom design, and review pricing and payment options.
Serving Cleveland's
Catholic Community
For Over 120 Years
ONLINE PRICING
Custom Catholic Memorials
RAPID RESPONSE
Kotecki Family Memorials can begin the process of creating a custom Catholic memorial online. By using the pricing form below, our team can quickly respond to your needs. As a convenience, we are available evenings and weekends.
All Souls Memorials Links *
Below are links to notable or reference material as featured on FindAGrave.com:
All Souls Cemetery Homepage
– Over 61,000 memorials added to the directory.
George Voinovich
1936 – 2016
– Cleveland Mayor, Ohio Governor, and member of the United States Senate.
Vincent George Marotta, Sr.
1924 – 2015
– Developer, philanthropist, and co-creator of the Mr. Coffee machine.
Albert Joseph Milnar
1913 – 2005
– Cleveland Indians pitcher and #2 behind teammate Bob Feller.
Antanas Smetona
1874 – 1944
– Two-time Lithuanian President, US citizen, national radio commentator and spokesperson.
*  Not all featured links shown were designed and created by Kotecki Family Memorials. The reference information provided is for educational purposes.