Calvary Cemetery Memorials - Lorain, Ohio
With nearly 35,000 interments, Calvary Cemetery in Lorain, Ohio is the largest county memorial footprint. The cemetery is the western representative of the Cleveland Catholic Cemeteries network. Kotecki Family Memorials leads the region in providing cemetery markers, monuments, and memorials to the Catholic faith community. Calvary Cemetery Memorials Lorain features numerous Kotecki carvings among it's collection of historic markers and headstones.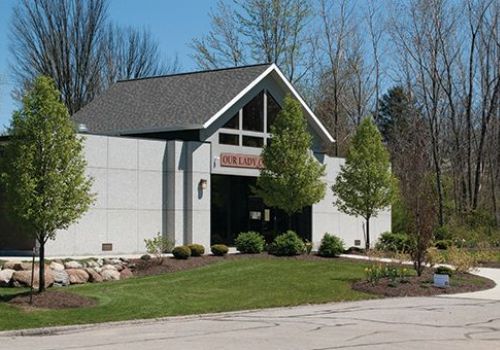 Our Lady Of Guadalupe Mausoleum at Calvary Lorain
With a 100-year history in Lorain County, Calvary Cemetery reflects the commitment the Catholic church has shown to local families. In 2012, the cemetery extended that bond with the dedication of a newly-constructed building – Our Lady Of Guadalupe Mausoleum. Cleveland Bishop Richard Lennon was on hand for the September 1st ceremony.
The new building was designed to provide burial options for families. The concrete and granite mausoleum was designed to provide security to the remains of loved ones' for hundreds of years.
"As a Catholic, our relationship continues with the deceased… We treat it with care and respect." 
According to media reports at the time, Bishop Lennon chose the name of the new facility in part to show tribute to the history of the hispanic population in the community.
"The apparition of Our Lady of Guadalupe in Mexico was responsible for the conversion of many Hispanics to Christianity."
Calvary Cemetery
Lorain, Ohio
Location: 555 North Ridge West
Lorain, Ohio

Established: 1904

Total Acres: 42

Burial Options: Ground Memorials, Upright Monuments, Cremation
Memorial Designs, Specifications And Standards
Calvary Cemetery Memorials Lorain must adhere to material, size and elevation standards set by the cemetery association. Each Kotecki professional has the knowledge and expertise to create a custom-designed memorial  to approved specifications.
Calvary Cemetery Lorain Memorial Pricing
Complete our ONLINE PRICING FORM to receive a reply from one of our memorial specialists. Our team will respond promptly to discuss your custom design, and review pricing and payment options.
Serving Cleveland's
Catholic Community
For Over 120 Years
ONLINE PRICING
Custom Catholic Memorials
RAPID RESPONSE
Kotecki Family Memorials can begin the process of creating a custom Catholic memorial online. By using the pricing form below, our team can quickly respond to your needs. As a convenience, we are available evenings and weekends.
Calvary Memorials Lorain Links *
*  Not all featured links shown were designed and created by Kotecki Family Memorials. The reference information provided is for educational purposes.